There is a lack of images about this subject. If you have any images for this page,
upload
them and add them here, or else the zombies will eat your brains!

This article is under construction and requires more content. You can help our wiki by
expanding it
.
Colizeum is a Suburbination, Gnome Bomb, Team Vanquish, Vanquish Confirmed!, Garden Ops, Graveyard Ops and Solo Ops map in Plants vs. Zombies: Garden Warfare 2. It takes place in a Roman Coliseum.
Description
For Rent: One large Colizeum. Open space concept, lots of room for activities! Currently lacking electricity, plumbing, doors, windows and roof. Serious inquiries only.
Golden Gnome Locations
The first Golden Gnome is located near the gardens to the back of the Colizeum. Go down onto the bottom layer and look under the fallen pillar which acts as a platform back up near some bushes. Behind the bushes and under the pillar is where the Golden Gnome is located.
The second Golden Gnome is located near the front of the Colizeum near the river. An Imp is recommended to get this one. Where the large platform is, jump off it and go left. Use the Imp's hover to hover over the river before going back on land to find a mushroom button. Hit it to trigger it. Once triggered, a secret room will appear in front of you containing the Golden Gnome.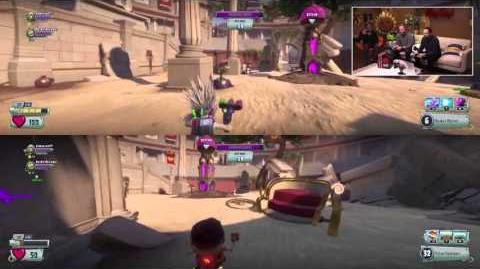 Trivia
The Colizeum looks similar to the Seeds of Time's fifth location, Rome. This is likely since Colizeum is based off a Roman Colosseum.
It is a pun on Colosseum and "zombie".
This article is a stub. Help us
expand it
, or the zombies will eat your brains!