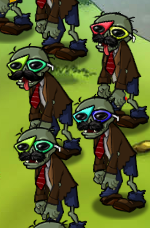 Codes
are words that can be entered during gameplay to effect the zombies (except for trickedout). They may be typed at any time while the game is running. The effect is applied after the last letter is typed; there is no need to press enter.
In the console versions of Plants vs. Zombies, an "enter cheat code" menu is required. To bring it up in the Xbox Live Arcade version, the player must enter LB, RB, LT, RT. In the PlayStation 3 version, is it L1, R1, L2, R2. All original codes will work for both versions.
In the PlayStation Vita version, to be able to enter the codes, the player must have the Tree of Wisdom but they do not have to grow it to 1000 feet to unlock all the codes, unlike in other versions. When the player buys the tree, a flower with a question mark in it will appear on the home screen, click it and the Raven will say "Enter Code" and a keyboard will show up, where the player types the codes.
There do not appear to be any codes within the Nintendo DS, iPhone, and Android versions of the game. In the Nintendo DS version, the player can use Action Replay for getting cheats, but it has to be on a Nintendo DSi version.
To disable an activated code, simply type it again.
Note: Some codes will not activate if the player's Tree of Wisdom is not tall enough on most versions; the player must grow it 100 feet to use Daisies, 500 feet for dance, and 1000 feet for pinata.



List of codes
| Code | Effect | Tree of Wisdom height required |
| --- | --- | --- |
| future | Gives zombies future sunglasses. | Can be used without Tree of Wisdom |
| moustache/mustache | Zombies now have moustaches (or mustaches). | Can be used without Tree of Wisdom |
| trickedout | Alternate Lawn Mower appearance. (but Pool Cleaner and Roof Cleaner do not change appearance). | Can be used without Tree of Wisdom |
| daisies | Zombies leave small daisies behind when killed. | 100 ft |
| dance | Makes zombies dance. | 500 ft |
| pinata | A shower of candy appears when a zombie dies. | 1000 ft |
| sukhbir | Toggles the zombie's call for brains sound, a wheezing call kind of like an old man. | Can be used without Tree of Wisdom |
| ↑↑↓↓←→←→BA (Konami code) | A popping sound, but this has no real effect. | Can be used without Tree of Wisdom |
Trivia