Coach Zombie is a conjectural name for this article.
If you know the official name or have a better name or translation for it, please contact a wiki
administrator
to change it.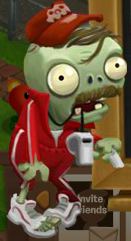 For the similar zombie in Plants vs. Zombies Heroes, see Zombie Coach.
Coach Zombie was a zombie that appeared in Plants vs. Zombies Adventures. His main purpose was related to the game mode Brainball. The Coach Zombie gave the player a tutorial on Brainball once and "trained" zombie waves one at a time, so the player could attack other players and get brains.
Trivia
Ad blocker interference detected!
Wikia is a free-to-use site that makes money from advertising. We have a modified experience for viewers using ad blockers

Wikia is not accessible if you've made further modifications. Remove the custom ad blocker rule(s) and the page will load as expected.