Ad blocker interference detected!
Wikia is a free-to-use site that makes money from advertising. We have a modified experience for viewers using ad blockers

Wikia is not accessible if you've made further modifications. Remove the custom ad blocker rule(s) and the page will load as expected.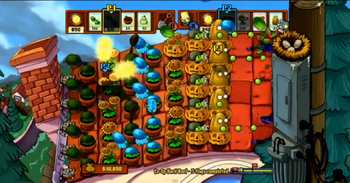 Co-op Hard Roof
is the ninth
level
of
Co-op Mode
. It is almost the same as
Survival: Roof (Hard)
, except for the fact that this level is played with another person. It is played on the
console versions of Plants vs. Zombies
.
Strategies
For strategies, see Survival: Roof (Hard).
See also
This article is a stub. Help us
expand it
, or the zombies will eat your brains!