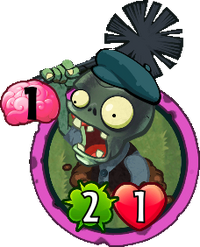 Chimney Sweep

Statistics
Strength
Health
Cost
2
1
1
Set
Basic
Rarity
Common
Class
Tribe
Professional Zombie
Abilities
When played on Heights:This gets +1/+1
It's a growth industry.
Chimney Sweep is a basic common zombie card in Plants vs. Zombies Heroes, and a member of the

Brainy class. It costs 1

to play, and has 2
/1

. Its ability gives itself +1
/+1

when played in a Heights lane. Its plant counterpart is Cabbage-Pult.
Statistics
Class: Brainy
Tribe: Professional Zombie
Ability: When played on Heights: This gets +1/+1.
Set - Rarity: Basic - Common
Card description
It's a growth industry.
Strategies
With
This is a good zombie to start your game with, as it only costs 1 brain to use, and has decent stats, especially when placed on Heights.
Whenever you get this zombie into your deck, try to place it on Heights, as this will give it a small stat boost. As minor as the boost may appear to be, it can sometimes decide if the Chimney Sweep survives more than one plant attack or if it is strong enough to take out the plant in one hit. Use Camel Crossing or Yeti Lunchbox or any other buffing trick to keep this strong zombie alive, because this zombie might come in handy.
Against
If the player deploys this zombie, Using a 1-sun cost plant that can do 2 or more damage is ideal, such as Bonk Choy or Shroom for two. Alternatively, the player can use a trick if they want to get rid of it.
A Cabbage-Pult can also be a good idea, as it can destroy a Chimney Sweep and survive to the next turn. However, note that Cabbage-Pult costs more than Chimney Sweep, so you still need a way to stop it on the first turn.
Gallery
Old
Trivia
Its description is a reference to the fact that, in the Victorian era, children were used to clean rich people's chimneys.

If the child grew too big, that child would be fired and their job would be handed over to another smaller child.

Its animation is very similar to Tennis Champ.
When it is summoned, one can hear it coughing.

The player can also hear it coughing when it attacks.
This is probably a reference to the coal dust in chimneys which can cause coughing.

If a Tennis Champ is played, then later a Chimney Sweep is placed, it will make Tennis Champ's boosting noise when it is boosted on heights.
See also