Chilly Pepper (Plants vs. Zombies Heroes)
Comments

4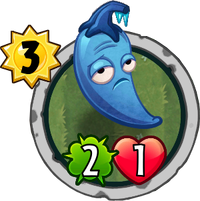 Not to be confused with the Chilly Pepper from Plants vs. Zombies Adventures.
Chilly Pepper (PvZH)

Statistics
Strength
Health
Cost
2
1
3
Set
Premium
Rarity
Uncommon
Class
Tribe
Pepper Plant
Abilities
When played: Freeze a Zombie.
It's not easy being both hot *and* cold. A comfortable lukewarm might be nice for a change.
Chilly Pepper is a premium uncommon plant card appearing in Plants vs. Zombies Heroes and a member of the

Smarty plants. It costs 3
and has 2
/1

when first played. When played, it will

freeze a zombie of the player's choice.
Origins
The name Chilly Pepper is a portmanteau on "Chili Pepper," the plant this is based on and "Chilly," referring to its appearance and special effect.
Statistics
Class: Smarty
Tribe: Pepper Plant
Abilities: When played: Freeze a Zombie.
Set - Rarity: Premium - Uncommon
Card description
It's not easy being both hot *and* cold. A comfortable lukewarm might be nice for a change.
Version history
Version 1.2.11
Rarity change: Basic - Uncommon to Premium - Uncommon.
Strategies
With
Despite being weak, this card allows you to freeze and attack zombie cards, which can help if used correctly, as it gives a chance to kill a card at the same while they are completely vulnerable. You may choose Tennis Champ, as it will freeze it and let a plant card damage it without that plant getting damaged. A Chilly Pepper should be able to destroy a Toxic Waste Imp while it is frozen without the

Deadly ability being activated, as well as removing the caused Deadly effect from Imps.
Using Rescue Radish with this card is a good combination, as it will allow you play this card once more to freeze another zombie.
Against
Due to the low amount of health it has, the player should have no difficulties in defeating it, by Tricks such as Nibble, or with almost every zombie card. If there is a zombie card which you want to keep on the field longer, is about be destroyed from being frozen and damaged, simply heal it with tricks such as Vitamin Z, where it should be able to survive the attack in order to continue being present after being defrosted.
Gallery
Old
Trivia
The Chilly Pepper on Green Shadow's Ally Pack is smiling, while in gameplay, it is frowning.
This is the only new plant from Plants vs. Zombies Adventures to return in this game.
It is the only Pepper plant in the Smarty class.