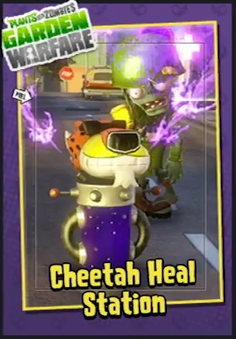 Cheetah Heal Station is an alternate ability for the Scientist's Zombie Heal Station that was introduced in the Cheetos DLC pack. It heals the fastest of all the heal stations, with it healing roughly three or four health a second, but it self-destructs after 15 seconds being deployed, being the heal station with the least time before self-destructing. It takes 30 seconds to recharge.
Stickerbook description
With the fastest heal rate of all of the Scientist's Heal Stations, Chester sees all. Silently watching, and healing. Always healing.
Strategies
With
Cheetah Heal Station is best used for quick heals while on the offense, but it self-destructs too quickly to be a reliable source of healing.
Gallery
Trivia
The Cheetah Heal Station says "meow" while healing.
See also
Ad blocker interference detected!
Wikia is a free-to-use site that makes money from advertising. We have a modified experience for viewers using ad blockers

Wikia is not accessible if you've made further modifications. Remove the custom ad blocker rule(s) and the page will load as expected.