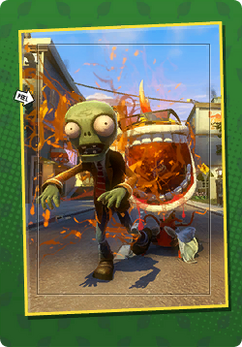 Cheesy Goop is an alternate ability for the Chomper's Goop which was introduced in the Cheetos DLC pack. It deals 10 damage per second and lasts for 3.5 seconds. The splash damage deals two to five damage, and deals nine to ten as a critical damage. It takes ten seconds to recharge.
Stickerbook description

The Cheesy Goop in the first in Crazy Dave's new line of gourmet marinades. It's scientifically formulated to slow Zombies down and make them taste great!
Comparison to Vanilla Counterpart
Pros
Deals very high damage for its cooldown
Cons
Trivia
It deals the most damage among all Goop attacks, at a total of 35 damage.
Chessy Goop is more powerful than the Vanilla counterpart, but much more slower cooldown.