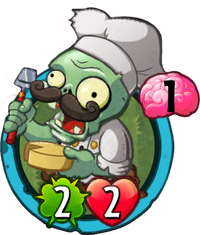 Cheese Cutter

Statistics
Strength
Health
Cost
2
2
1
Set
Galactic
Rarity
Super-Rare
Class
Tribe
Gourmet Mustache Zombie
Abilities
When this hurts the Plant Hero: Conjure a Gourmet card, and it costs 1 less.
Is that the exquisite scent of an aged Camembert, or just rotting flesh?
Cheese Cutter is a galactic super-rare zombie card in Plants vs. Zombies Heroes and a member of the

Beastly class. He costs 1

to play, has 2

/ 2

, and his ability Conjures a gourmet card, including another Cheese Cutter, whenever he hurts the opposing plant hero, and makes it cost 1

less. This ability does not activate if the zombie hero already has 10 cards in their hand.
Origins
His name is based off of the phrase "Cutting the cheese", which is another way of saying passing gas.
Statistics
Class: Beastly
Tribes: Gourmet Mustache Zombie
Traits: None
Abilities: When this hurts the Plant Hero: Conjure a Gourmet card, and it costs 1 less.
Set - Rarity: Galactic - Super-Rare
Card description
Is that the exquisite scent of an aged Camembert, or just rotting flesh?
Update history
Update 1.16.10
Strategies
With
This can be a very good turn 1 play, as he could potentially give you a card advantage while putting a 2

/2

zombie on the field. He can be used in most Beastly decks, but keep in mind that he does not have any tribe synergy. Not to mention that he can only activate his ability if he hurts the plant hero, so try to play him in an empty lane.
Brain Freeze can use him with Dr. Spacetime to make the Gourmet cards he conjures cost 2 less instead of 1 less. In addition, he can use Smoke Bomb to move Cheese Cutter into an empty lane so that he can activate his ability. Environment cards such as Laser Base Alpha (Brain Freeze only) or Moon Base Z (Electric Boogaloo only) also allow Cheese Cutter to get a guaranteed shot to the hero and to activate his ability easily. You can also buff him by giving him

Frenzy to destroy most plants that block his lane and aim at hitting the plant hero to activate his ability.
The Smash can use tricks like Camel Crossing, Monster Mash, or even better, Going Viral or Escape through Time so that Cheese Cutter remains alive. Additionally, Cone Zone will increase Cheese Cutter's max health to 5 if he is in that lane, but be very careful as the environment can be replaced, and Mega-Grow heroes can move the zombie away from the environment.
For easy reference, here is the list of cards Cheese Cutter can Conjure and their cost change:
Against
Your opponent can get a huge card advantage if this stays on the field. He can be taken out easily on turn 1 by most plant cards. He can also be killed using a Banana Bomb unless he gets a health boost. But for most of the time, try to block Cheese Cutter with any plant as his ability only activates when he hurts the plant hero. You can also use Soul Patch to prevent his ability from activating, but beware of cards such as Locust Swarm which can easily destroy Soul Patch.
Gallery
Trivia
The pupils on his eyes in his card are smaller than those in-game.
He is the first card to synergize with the Gourmet tribe.
During his idle animation, if the player listens closely, they can hear him occasionally say "Cheese" and "Yum".