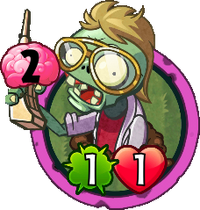 Cell Phone Zombie

Statistics
Strength
Health
Cost
1
1
2
Set
Basic
Rarity
Common
Class
Tribe
Professional Zombie
Abilities
When played: Draw a card.
Hang on - he's got to take this.
Cell Phone Zombie is a basic common zombie card in Plants vs. Zombies Heroes, and a member of the

Brainy class. It costs 2

to play, and has 1
/1

. Its ability will give the zombie hero an extra card. Its plant counterpart is Sage Sage.
Statistics
Class: Brainy
Tribe: Professional Zombie
Ability: When played: Draw a card.
Set - Rarity: Basic - Common
Card description
Hang on - he's got to take this.
Strategies
With
Cell Phone Zombie's main role is to help the zombie hero thin out the deck and have a higher chance of getting more useful cards. As it gives the player no hand advantage at all while having very poor stats and a high cost, it may be more preferable to replace it with Fun-Dead Raiser, which can thin out the deck more efficiently. If you can, try to bounce it with Firefighter so you can reuse it.
Against
The player can use almost anything to destroy this zombie, as it has the stats of a regular Zombie. However, the player must try to avoid bouncing the zombie in order to prevent the zombie hero from gaining another card for just 2 brains.
Gallery
Old
Trivia
It holds a phone resembling the DynaTAC phone, which is the first commercially available cell phone.
See also