For the version in Plants vs. Zombies: Garden Warfare 2, see Captain Deadbeard.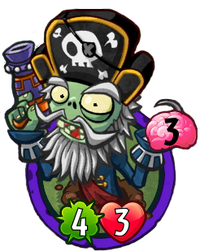 Captain Deadbeard

Statistics
Strength
Health
Cost
2
4
3
Set
Event
Class
Tribe
Mustache Pirate Zombie
Traits
None
Abilities
All Pirates get Strikethrough.
Yo ho ho! It's a pirate's unlife for him!
Captain Deadbeard is an event zombie card in Plants vs. Zombies Heroes, and a member of the

Sneaky class. He can also be made by Barrel of Deadbeards and Zombot Plank Walker. He costs 3

to play, and has 2

/4

. He does not have any traits, and his ability gives all pirate zombies on the field, including him, the

Strikethrough trait. This ability persists until all Captain Deadbeards are removed from the field.
Origins
He is based on the zombie class in Plants vs. Zombies: Garden Warfare 2 with the same name and appearance.
His description references the "Pirate's Life for Me" song from Pirates of the Caribbean.
Statistics
Class: Sneaky
Tribes: Mustache Pirate Zombie
Traits: None
Ability: All Pirates get Strikethrough.
Set: Event
Card description
Yo ho ho! It's a pirate's unlife for him!
Update history
Update 1.4.14
▲

Brain cost change: 4 → 3

▼

Strength change: 5 → 4
Update 1.18.13
▼

Strength change: 4 → 2

▲

Health change: 3 → 4

▲

Ability added: All Pirates get Strikethrough.
Set change: Token → Event
Strategies
With
Captain Deadbeard's ability is really useful by himself as well as with other pirates. You can create pirate synergy with Swashbuckler Zombie as any pirate that attacks while surviving will get +1

/+1

while doing damage to plants and your opponent unless they get a Super-Block. This also works well with Imp Commander as he can attack through Team-Up plants and draw a card unless the plant hero gets a Super-Block.
Impfinity can use this zombie with Imp-Throwing Gargantuar to land 5 damage on the plant hero. Super Brainz and Huge-Gigantacus can pair him with Shieldcrusher Viking, which will guarantee 5 unblockable damage to the plant hero if he manages to attack while also emptying their block meter, which is better than Impfinity's strategy. Professor Brainstorm can also use this strategy, provided that Barrel of Deadbeards is destroyed beforehand, which is not very hard when he can use Fireworks Zombie to destroy Barrel of Deadbeards to guarantee the creation of Captain Deadbeard. Brain Freeze can use this zombie with Interstellar Bounty Hunter, as she will strike through all plants in her lane and hit the plant hero; if she manages to destroy a plant, she can do more damage in her lane and draw more cards. This can work as well for Electric Boogaloo, but like Professor Brainstorm, via destroying Barrel of Deadbeards first.
Against
Captain Deadbeard himself does not do a lot of damage but can be threatening, as he can damage multiple weak plants in front of him. He is at his most dangerous when paired with other pirates like Imp Commander, Shieldcrusher Viking and especially Swashbuckler Zombie, which allows the zombie hero to draw cards, deplete your health quicker, or give boosts to pirates, respectively. Fortunately, tricks like Sizzle or Whack-a-Zombie can destroy him easily.
Gallery
Plants vs. Zombies Wiki
has a
gallery
for Captain Deadbeard (PvZH).
Trivia
He is one of the three new classes from Plants vs. Zombies: Garden Warfare 2 that is not a playable hero in Plants vs. Zombies Heroes, the second being Kernel Corn and the third being Hover-Goat 3000.
He is the only token card to turn into an event card so far.

He is the second token card overall to become obtainable through normal means, the first being Backup Dancer.
Coincidently, both are zombies in the mustache tribe and can be made by another zombie, Barrel of Deadbeards in this case.

On the old title screen, the eyepatch on his hat was plain black, while in-game, his eyepatch was black with a gray cross on it.
On the multiplayer menu, his card, and the Rank 47 profile picture, a Parrot Pal appears on his hat, but it does not appear anywhere else.

His idle sound effects also sound similar to the Parrot Pal in Garden Warfare 2, possibly hinting that it was removed at some point in development.
Parrot Pal is spotted in his textures as well.
Parrot Pal did appear on his hat prior to an update, however.
This may be due to the fact that almost all cards are in a maximum of two tribes and thus, did not include the pet tribe.

Captain Deadbeard was originally going to have 3/3 and give all pirates Overshoot 2 when he became an event card.
See also