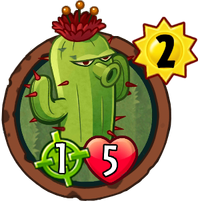 For other versions, see Cactus (disambiguation).
Cactus

Statistics
Strength
Health
Cost
1
5
2
Set
Basic
Rarity
Common
Class
Tribe
Cactus Plant
Traits
Bullseye
"It's true. I'm prickly on the outside but spongy on the inside."
Cactus is a basic common plant card in Plants vs. Zombies Heroes, and a member of the

Guardian plants. It costs 2
to play, and has 1
/5

. It has the

Bullseye trait, meaning that it does not fill the zombie hero's Super-Block Meter when it damages them.
Statistics
Class: Guardian
Tribe: Cactus Plant
Trait: Bullseye
Abilities: None
Set - Rarity: Basic - Common
Card description
"It's true. I'm prickly on the outside but spongy on the inside."
Strategies
With
Cactus' stat of 5

can be a big benefit, especially since it only costs 2
. It allows it to be played early in-game, making it hard for many zombie cards to destroy it during those turns. Due to this, using this card as a reliant defensive wall to protect other Team-Up plants behind it, such as Carrotillery can work. Additionally, this plant can easily be abused by buffing its stats with things like Fertilizer. On top of it, having Bullseye will prevent the zombie hero from gaining tricks to immediately take it out. It will also prevent the zombie hero from blocking the attack, so using cards that buff its strength such as Berry Angry will aid it well.
Against
Using zombie cards or tricks that can nullify both its strength and health, such as Pied Piper or Nibble, will be able to prevent it from attacking, as well as being closer to destroying it without needing to initiate the battle phase. Rolling Stone and

Deadly zombies can destroy it easily as well. Bouncing it with Backyard Bounce will expose the plant it is defending, if there is one, making that plant vulnerable to damage. If Cactus is buffed, consider using Rocket Science, as its high health will make it last for a while.
Gallery
Old
Trivia
Its Bullseye trait may be a reference to its role as a sniper in Plants vs. Zombies: Garden Warfare.