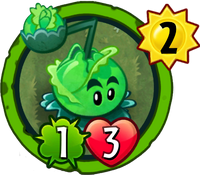 For the version in Plants vs. Zombies and Plants vs. Zombies 2, see Cabbage-pult.
Cabbage-Pult

Statistics
Strength
Health
Cost
1
3
2
Set
Basic
Rarity
Common
Class
Tribe
Leafy Plant
Abilities
When played on Heights: This gets +1 /+1 .
"Coleslaw from above!"
Cabbage-Pult is a basic common plant card in Plants vs. Zombies Heroes, and is a member of the

Mega-Grow class. It costs 2
to play, and has 1
/3

. It has no traits, and its ability gives it +1
/+1

when it is played on the heights. Its zombie counterpart is Chimney Sweep.
Origins
It is based on the plant in Plants vs. Zombies with the same name and appearance.
Statistics
Class: Mega-Grow
Tribe: Leafy Plant
Traits: None
Ability: When played on Heights: This gets +1/+1.
Set - Rarity: Basic - Common
Card description
"Coleslaw from above!"
Strategies
With
While it doesn't hit very hard, Cabbage-Pult's base health of 3 makes up for it, making it a pretty average plant. However, it becomes an even more powerful plant when its ability activates. Not only does Cabbage-Pult hit harder, its now increased base health of 4 lets it take 2 attacks unless it is facing a Cuckoo Zombie, Tennis Champ, or Toxic Waste Imp. However, it later gets outclassed by Skyshooter.
Also, having a base health of 4 when it is played on the heights allows it to survive most tricks, such as Bungee Plumber, The Chickening, and Zombot's Wrath (only if not all lanes are occupied by zombies).
Against
Due to its ability, Cabbage-Pult is almost always going to be played on the heights. Be ready to predict your opponent's move and play a zombie that can either destroy or heavily damage it there. Tricks like Slammin' Smackdown or Rolling Stone work well against it too. Bouncing it also works, but Dolphinado is too risky and Backyard Bounce is only playable starting from the 3rd turn.
Gallery
Old
Trivia
It and Winter Melon are the only lobbed-shot plants to be featured in Plants vs. Zombies Heroes.
Its description may refer to the fact that Cabbage-Pult is a lobbed-shot plant.

It also may refer to the fact that coleslaw is a food that includes vegetables, mostly cabbage.
See also
Ad blocker interference detected!
Wikia is a free-to-use site that makes money from advertising. We have a modified experience for viewers using ad blockers

Wikia is not accessible if you've made further modifications. Remove the custom ad blocker rule(s) and the page will load as expected.