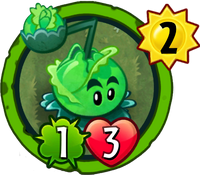 For the version in Plants vs. Zombies and Plants vs. Zombies 2, see Cabbage-pult.
Cabbage-Pult

Statistics
Strength
Health
Cost
1
3
2
Set
Basic
Rarity
Common
Class
Tribe
Leafy Plant
Abilities
When played on Heights: This gets +1 /+1 .
"Coleslaw from above!"
Cabbage-Pult is a basic common plant card appearing in Plants vs. Zombies Heroes and is a member of the

Mega-Grow plants. It costs 2
to plant, and has 1
/3

. Its ability gives it an additional +1
/+1

when it is played on a Height lane. Its zombie counterpart is Chimney Sweep.
Origins
Cabbage-Pult is based on a cabbage. Its name is a combination of "cabbage," the plant this is based on and "catapult," referring to its catapult.
Statistics
Class: Mega-Grow
Tribe: Leafy Plant
Ability: When played on Heights: This gets +1 /+1 .
Set - Rarity: Basic - Common
Card description
"Coleslaw from above!"
Strategies
With
While being not the strongest early plant in the game, and highly outclassed by Skyshooter, it still has a lot of uses. Due to having 3 health on ground lanes and 4 for height lanes for just 2 sun, it is very helpful for plant heroes that have no

Guardian cards, as it can work as a tank damage dealer early. It is a pretty nice plant to have in your deck, even if you cannot use the height lane, it is still solid for 3 health.
Against
This plant's ability will most likely lead the plant hero to place it on the heights. Plan accordingly and be ready to use a zombie that will defeat this plant, especially early on. Putting a powerful zombie onto the heights is recommended, so the player can deal with this plant more easily. Tricks can work too, but 3 to 4 health is a large amount of health to get rid of with a trick. Bouncing this also works, but the plant hero will likely plant this again next turn.
Gallery
Old
Trivia
It and Winter Melon are the only catapult plants to be featured in Plants vs. Zombies Heroes.
See also