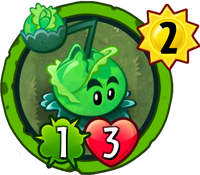 For the version in Plants vs. Zombies and Plants vs. Zombies 2, see Cabbage-pult.
Cabbage-Pult is a basic common plant card in Plants vs. Zombies Heroes, and is a member of the

Mega-Grow class. It costs 2

to play, and has 1

/3

. It does not have any traits, and its ability gives it +1

/+1

if it is played on a heights lane. Its zombie counterpart is Chimney Sweep.
Origins
It is based on the plant in Plants vs. Zombies and Plants vs. Zombies 2 with the same name. Its design is based on its apperance in Plants vs. Zombies 2.
Its description mentions coleslaw, a food that includes vegetables, but mostly cabbage.
Statistics
Class: Mega-Grow
Tribe: Leafy Plant
Traits: None
Ability: When played on Heights: This gets +1/+1.
Set - Rarity: Basic - Common
Card description
"Coleslaw from above!"
Strategies
With
While it doesn't hit very hard, Cabbage-Pult's base health of 3 makes up for it, making it a pretty average plant. However, it becomes an even more powerful plant when its ability activates. Not only does Cabbage-Pult hit harder, its increased base health of 4 lets it take more attacks. However, it later gets outclassed by Skyshooter.
Also, having a base health of 4 when it is played on heights allows it to survive most tricks, such as Bungee Plumber, The Chickening, and Zombot's Wrath (only if not all lanes are occupied by zombies).
Against
Due to its ability, Cabbage-Pult is almost always going to be played on the heights. Be ready to predict your opponent's move and play a zombie that can either destroy or heavily damage it there. Tricks like Slammin' Smackdown or Rolling Stone work well against it too. Bouncing it also works, but it is not able to prevent it from being re-played on heights.
You should also be careful if Lily of the Valley is on the field when your opponent plays this, as it will then get a massive +3

/+3

when it is played due to both their abilities combined. If you think you can predict this card being played, it is best to destroy Lily of the Valley before Cabbage-Pult can get heavily boosted. If not, Rocket Science can destroy it.
Gallery
Plants vs. Zombies Wiki
has a
gallery
for Cabbage-Pult (PvZH).
Trivia
See also