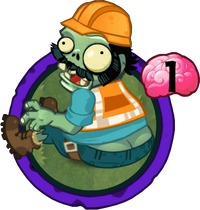 For the similar zombie in Plants vs. Zombies: Garden Warfare and Plants vs. Zombies: Garden Warfare 2, see Plumber.
Bungee Plumber

Statistics
Strength
Health
Cost
-
-
1
Set
Basic
Rarity
Common
Class
Tribe
Professional Mustache Trick
Abilities
Do 2 damage.
Likes: Plumbing and adventure sports. Dislikes: Belts.
Bungee Plumber is a basic common zombie trick card in Plants vs. Zombies Heroes, and a member of the

Crazy class. He costs 1

to play, and his ability does 2 damage to a selected plant or the plant hero.
Statistics
Class: Crazy
Tribe: Professional Mustache Trick
Ability: Do 2 damage.
Set - Rarity: Basic - Common
Card description
Likes: Plumbing and adventure sports. Dislikes: Belts.
Update history
Update 1.16.10
Tribe added: Professional
Strategies
With
The best use for this trick is to destroy plants with low health and high strength like Zapricot, early plants that can be a threat later on like Pea Pod, or problematic plants like Repeater. Using this on the plant hero when he/she only has 2 health is also a good idea. He can also be used to weaken the plant hero or a plant, so they can be finished off by another attack, or to force a block, making way for a bigger hit to come. A good strategy with Electric Boogaloo is to use Bungee Plumber to damage a heavily boosted plant, and then use the trick Evaporate to destroy it instantly, all for only 2 brains, but do note that you can only do it once a match.
Against
If you think this trick is in the hand of your opponent, try not to play powerful plants such as Snowdrop, as this may ruin your chances of building up good synergizing decks. Use plants with more than 2

such as Torchwood and Wall-Nut to lessen the impact of this trick. Also, try to keep your health above 2, otherwise your opponent may play this to instantly defeat you.
Gallery
Plants vs. Zombies Wiki
has a
gallery
for Bungee Plumber.
Trivia
One can actually see a belt on the pants of the Bungee Plumber, albeit in a way where the belt would not keep his pants up, even though the description mentions that he dislikes belts.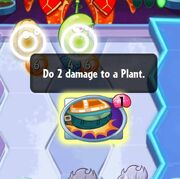 Even though he is a member of the Crazy class, Super Brainz can use him in the tutorial of the game.

In the tutorial, his description is "Do 2 damage to a Plant" and his card appears to be a Premium - Uncommon card.
However, as of update 1.14.13, this always appears whenever the trick is used on a plant.
It is also possible to get this during update 1.14.13 via a glitch on Mad Chemist and Eureka. The card is named "Plumber", is not in any tribes, and cannot target the plant hero.

Despite being named Bungee Plumber, the zombie featured resembles the Engineer more than the Plumber, more specifically, the one in Plants vs. Zombies: Garden Warfare rather than Plants vs. Zombies: Garden Warfare 2 due to the mustache on his face.
He is the first of two zombies in Plants vs. Zombies Heroes to be based on the Plumber variant of the Engineer (although Bungee Plumber resembles the basic Engineer more in appearance), with the other being Kitchen Sink Zombie.