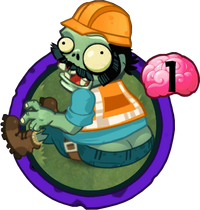 For the similar zombie in Plants vs. Zombies: Garden Warfare and Plants vs. Zombies: Garden Warfare 2, see Plumber.
Bungee Plumber

Statistics
Strength
Health
Cost
-
-
1
Set
Basic
Rarity
Common
Class
Tribe
Mustache Trick
Abilities
Do 2 damage.
Likes: Plumbing and adventure sports. Dislikes: Belts.
Bungee Plumber is a basic common zombie trick card in Plants vs. Zombies Heroes, and a member of the

Crazy class. It costs 1

to play, and its ability does 2 damage to a selected plant or the plant hero.
Statistics
Class: Crazy
Tribe: Mustache Trick
Ability: Do 2 damage.
Set - Rarity: Basic - Common
Card description
Likes: Plumbing and adventure sports. Dislikes: Belts.
Strategies
With
The best use for this trick is to destroy plants with low health and high strength like Zapricot, or problematic plants like Repeater. Using this on the plant hero when it only has 2 health is also a good idea. It can also be used to weaken the plant hero or a plant so it can be finished off by another attack. A good strategy with Electric Boogaloo is to use Bungee Plumber to damage a heavily buffed plant, and then use the trick Evaporate to destroy it, all for only 2 brains.
Gallery
Old
Trivia
One can actually see a belt on the pants of the Bungee Plumber, albeit in a way where the belt would not keep its pants up even though the description mentions how it dislikes belts.
Even though this is a member of the Crazy class, Super Brainz can use it in the tutorial of the game.

In the tutorial, its description is "Do 2 damage to a Plant" and its card appears to be a Premium - Uncommon card.