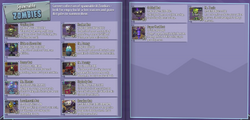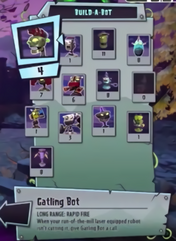 Build-a-Bots are the name for the Spawnable Zombies that can be spawned by the zombies in Graveyard Ops, Backyard Battleground and Herbal Assault in Plants vs. Zombies: Garden Warfare 2. Much like the Spawnable Plants in the original game, these summons are stationary sentries used to guard and protect graveyards from the attacking plants. They can be obtained by opening sticker packs.
List of Build-a-Bots
Trivia
The name "Build-a-Bot" is a reference to the Build-a-Bear toy company.
Ad blocker interference detected!
Wikia is a free-to-use site that makes money from advertising. We have a modified experience for viewers using ad blockers

Wikia is not accessible if you've made further modifications. Remove the custom ad blocker rule(s) and the page will load as expected.