For other uses, see Buckethead Zombie (disambiguation).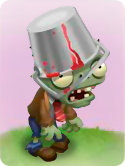 Buckethead Zombie

His bucket makes him super tough.

Toughness
Medium
First appears
Cadaver Cavern Level 1
Cost of neighbor attack
1000 coins
Training cost
250 coins
Training time
Five minutes



Buckethead Zombie is a zombie in Plants vs. Zombies Adventures. Buckethead Zombie first appears in Cadaver Cavern Level 1. Unlike Zombie and Conehead Zombie, it appears in every map after it debuts. It appears more often than Zombies and Conehead Zombies.
Facebook description
He's always worn a bucket. First, it was to be unique. Later, he just forgot it was there.
Encounters
Gallery