For other uses, see Buckethead Zombie (disambiguation).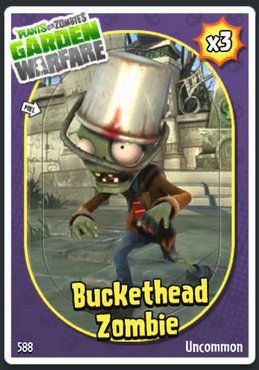 Buckethead Zombie is one of the many summonable zombies in Gardens & Graveyards mode in Plants vs. Zombies: Garden Warfare and Plants vs. Zombies: Garden Warfare 2. Like all other summon-able plants and zombies, it must be unlocked at the Sticker Shop. This is most commonly unlocked in the reinforcement pack. It has the highest health of all non-shielded Browncoat Zombies. Its attacks are Zombie Hurt and Hard Rock Toss. Each Zombie Hurt attack deals 15 damage. Each Hard Rock Toss attack deals 25 damage and is sometimes used when their target is far.
It has a Pirate version that only appears in Garden Ops maps Port Scallywag and Sharkbite Shores.
The plant counterpart is the Terracotta Weed.
Description

Highest health of all non-shielded Browncoat Zombies.
Health
A Buckethead Zombie has less than or equal to 175 health. This makes it the toughest out of all headwear-using Spawnable Zombies.
Strategies
Use this sort of how you would use Browncoat Zombies. Use it simply as a distraction, but with much higher health. It may be considered strong, as there is almost no counter to it, aside from maybe Chompers. In multiplayer, Chompers may not want to eat it though, because it's a summonable zombie. Be wary of Hot Rod Chomper and Count Chompula as they activate their abilities by eating it.
Gallery
Trivia
In Plants vs. Zombies: Garden Warfare 2, its bucket is missing its signature red stain.

Also, the player almost never sees the pirate versions in that game, only in the Captain Smasher boss fight.