Bonk Choy (Plants vs. Zombies: Garden Warfare)
Comments

10
For other uses, see Bonk Choy (disambiguation).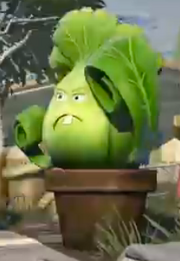 Bonk Choy is a Spawnable Plant in Plants vs. Zombies: Garden Warfare and Plants vs. Zombies: Garden Warfare 2. When planted, it punches any zombies near it. Its attack is called Uppercut. Each punch deals 75 damage, and attacks every target twice, resulting it to deal 150 damage to its target.
Stickerbook description

Makes up for his lack of range with devastating uppercuts.
Health
A Bonk Choy has less than or equal to 100 health.
Strategies
This is best used in Garden Ops, near the Garden as it can defeat almost any zombie instantly, making it a very good plant to use. Although the Bonk Choy can kill zombies easily, it is vulnerable to ranged zombies that can keep an eye on it. In Gardens & Graveyards, it is useful for killing Spawnable Zombies, but can be easily defeated by players, as every playable zombie variant is ranged. This is best placed around or near corners, to ambush the zombie. Keep in mind that there is a small delay between each attack, so if more than two zombies come at a time, it is bound to take some damage.
The Bonk Choy can act as a hard counter to Coffin Zombies, Outhouse Zombies, and Barrel Pirates. This is because it deals 150 damage per attack and ignores armor, allowing it to kill aforementioned zombies in a single attack.
Gallery