This article is under construction and requires more content. You can help our wiki by
expanding it
.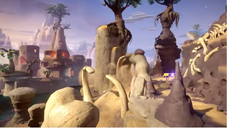 Boney Island is a Suburbination, Gnome Bomb, Team Vanquish, Vanquish Confirmed!, Garden Ops, Graveyard Ops and Solo Ops map in Plants vs. Zombies: Garden Warfare 2. It is based on a rocky desert island where there are large rocks, canyons and bones lying around, as well as prehistoric artifacts and dinosaur skeletons. There is a cavepeople village and in the center of the map is a large volcano.
Description
Boney Island mysteriously attracts all that is lost. Ships, aircraft... even time itself. Chances are, if you are lost, you are here!
Trivia
If the player listens closely, he or she can hear the Mighty Eagle's call from the Angry Birds games.

However, the Mighty Eagle lives inside a large, deep cave in the Angry Birds series.

Its name is based off of the real life island in Brooklyn, named Coney Island.

Its name is a portmanteau of Coney Island, and the word "bone".

Its description may be a reference to the Bermuda Triangle.
This map is based on Jurassic Marsh.

The Dinolandz portion of Seeds of Time/Time Park are also based on the aforementioned world.
This article is a stub. Help us
expand it
, or the zombies will eat your brains!