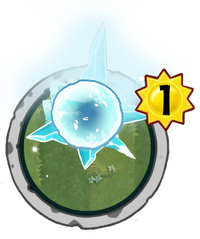 Big Chill

Statistics
Strength
Health
Cost
-
-
1
Rarity
Super-Rare
Class
Tribe
Superpower Trick
Abilities
Freeze a Zombie. Draw a card.
Discerning Plants agree: Zombies are best served on ice.
Big Chill is a super-rare plant superpower trick card in Plants vs. Zombies Heroes, and a member of the

Smarty class. It costs 1
to play, and its abilities give the

Freeze effect to a selected zombie, and the plant hero a card.
Statistics
Class: Smarty
Tribe: Superpower Trick
Abilities: Freeze a Zombie. Draw a card.
Rarity: Super-Rare
Card description
Discerning Plants agree: Zombies are best served on ice.
Update history
Update 1.2.11
Strategies
With
Do what you would with playing Iceberg Lettuce, since they are practically the same. However, Big Chill gives you a card, unlike Iceberg Lettuce.
You can either play this on turn 1 for a card advantage, as well as stalling an early threat, or consider it as an extra Iceberg Lettuce and play it much later. You can also activate the abilities of plants that benefit from freezing zombies, such as Snowdrop and Winter Squash.
Big Chill can also be used with Bananasaurus Rex as it is a cheap way of boosting it. However, only Green Shadow can use this combo normally.
Against
Because Iceberg Lettuce is very similar to Big Chill, any strategy with Iceberg Lettuce applies to Big Chill as well.
Gallery
Old
Ad blocker interference detected!
Wikia is a free-to-use site that makes money from advertising. We have a modified experience for viewers using ad blockers

Wikia is not accessible if you've made further modifications. Remove the custom ad blocker rule(s) and the page will load as expected.