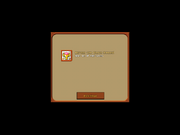 Beyond the Grave is an achievement that can be obtained on the Nintendo DS, Steam, iOS, Xbox 360, and PlayStation Vita versions of Plants vs. Zombies. It is worth 25 points on the Game Center. To unlock it, the player has to beat every mini-game. This achievement is fairly hard because mini-games like ZomBotany 2 and Bobsled Bonanza can be particularly difficult.
Strategies
View mini-games for the entire list of mini-games, and how to beat them.
On the iOS and Android versions of this game, you must do some gold farming to get this. The reason is because you will be spending 260,000 coins (50,000 for each of the five packs, and 10,000 for ZomBotany). On the iPad version, you must spend 60,000 coins (50,000 for the single pack and 10,000 for Slot Machine). However, in the iOS version of Plants vs. Zombies FREE, the player starts with 200,000 coins, making it easier.
Trivia
There is a known glitch in the PC version where if the player has the non-Game of the Year edition and beats all the mini-games, and then upgrades to Game of the Year, it is impossible to get the achievement because the player's progress saves from game to game. However, this glitch can be fixed by removing and later restoring the game saved files.
On iOS version, there is a bug where the player can get this achievement after beating a Last Stand Puzzle, without beating all the mini-games.
The Nintendo DS version of this achievement is called Attention Deficit.
See also
Legend
* means the achievement is PC-exclusive.
** means the achievement is handheld-exclusive.
*** means the achievement no longer exists.
How would you rate Beyond the Grave's difficulty?