Ad blocker interference detected!
Wikia is a free-to-use site that makes money from advertising. We have a modified experience for viewers using ad blockers

Wikia is not accessible if you've made further modifications. Remove the custom ad blocker rule(s) and the page will load as expected.

This article is under construction and requires more content. You can help our wiki by
expanding it
.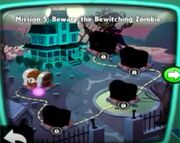 Beware the Bewitching Zombie is the fifth mission for the plant side in Plants vs. Zombies Heroes. The main opposing zombie hero in this mission is Immorticia. This mission also features Professor Brainstorm (Teammate Battle 1) and Impfinity (Teammate Battle 2) as opposing zombie heroes.
At the start of each battle, there is a pre-planted Wall-Nut and a The Podfather behind it on the second lane, so it is advised to use Mega-Grow heroes or Spineapple on this mission.
Plot
On Halloween, a few plants decide to go on "Trick or Treating" when they unfortunately Trick or Treat at Immorticia's house who kidnaps them. This causes Night Cap, Green Shadow and Grass Knuckles to arrive in order to save them.
Levels
Encounter Battle
Beware the Bewitching Zombie - Encounter Battle
Game

Special gimmick
The player starts with a and a on the 2nd lane.
Enemy
Nº of height lanes
Nº of water lanes
Immorticia
1
1
Previous
Next
<<<
>>>
Teammate Battle (I)
Beware the Bewitching Zombie - Teammate Battle (I)
Game

Special gimmick
The player starts with a and a on the 2nd lane. The opponent has only 36 cards in their deck.
Enemy
Nº of height lanes
Nº of water lanes
Professor Brainstrom
1
1
Previous
Next
<<<
>>>
Mini-Boss Battle
Beware the Bewitching Zombie - Mini-Boss Battle
Game

Special gimmick
The player starts with a and a on the 2nd lane.
Enemy
Nº of height lanes
Nº of water lanes
Immorticia
1
1
Previous
Next
<<<
>>>
Teammate Battle (II)
Beware the Bewitching Zombie - Teammate Battle (II)
Game

Special gimmick
The player starts with a and a on the 2nd lane.
Enemy
Nº of height lanes
Nº of water lanes
Impfinity
1
1
Previous
Next
<<<
>>>
Boss Battle
Beware the Bewitching Zombie - Boss Battle
Game

Boss Mode
Immorticia starts with 3 that don't have Afterlife located on the ground lanes.
The player starts with 3 on the ground lanes and a behind the in the 2nd lane.
Enemy
Nº of height lanes
Nº of water lanes
Immorticia
1
1
Previous
Next
<<<
>>>
Decks
Encounter Battle
Teammate Battle (I)
Mini-Boss Battle
Teammate Battle (II)
Boss Battle
Gallery
Old
Trivia