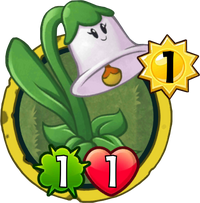 Bellflower is a basic common plant card in Plants vs. Zombies Heroes, and a member of the

Solar class. She costs 1

to play, and has 1

/1

. She does not have any traits nor abilities.
She is the basic plant of the Solar class.
Origins
She is based on the plant in real life with the same name, and a bell, a simple idiophone percussion instrument that vibrates in a single tone, usually made of metal in the shape of a hollow cup.
Her appearance is a pun on the word "bell" in her name.
Statistics
Class: Solar
Tribe: Flower Plant
Traits: None
Abilities: None
Set - Rarity: Basic - Common
Card description
She wants to be friends with Snowdrop soooo badly, but she feels like she's always getting the cold shoulder.
Update history
Update 1.2.11
Added to the game as the basic plant of the Solar class.
Strategies
With
Bellflower is outperformed by every other damaging Solar plant, due to her having low stats, no traits, and no abilities, especially Morning Glory. However, she can be used in tandem with Briar Rose's or Power Flower's abilities, due to her being a flower plant. This is a cheap way to block highly damaging zombies, and with Spyris, Exploding Imp can be blocked, potentially saving 6 health or an important fighter. Of course, you could use her as a weak blocker, but watch out against Hearty heroes for Rolling Stone.
Against
Any damaging zombie or trick can destroy her easily. However, try to use a cheap and easily expendable zombie like Skunk Punk against Bellflower if Briar Rose is in play, or use tricks to avoid any zombies to be destroyed by Briar Rose's ability. If Power Flower is on the field, it is wise to clear out any Bellflowers, as they do add to Power Flower's heal bonus.
Gallery
Trivia
Her appearance and animations are very similar to Snowdrop.

Her card description also references her as well.
See also