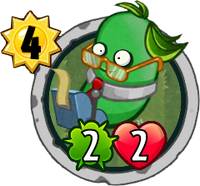 For other usages of beans, see bean.
Bean Counter

Statistics
Strength
Health
Cost
2
2
4
Set
Premium
Rarity
Super-Rare
Class
Tribe
Bean Plant
Abilities
This gets +1/+1 when you play a Bean.
When played: Add two 1/1 Weenie Beanies to your hand.
"Every bean is accounted for. I assure you, they all add up."
Bean Counter is a premium super-rare plant card appearing in Plants vs. Zombies Heroes and a member of the

Smarty plants. It costs 4
and has 2
/2

when played. Its ability will give it +1
/+1

every time a Bean card is played. It will add two 1
Weenie Beanies into the plant hero's hand when played.
Origins
Bean Counter is the literal representation of a "bean counter," a person, such as an accountant or financial officer, who is concerned with quantification, especially to the exclusion of other matters. Its name is also a pun on the word "encounter".
Statistics
Class: Smarty Plant
Tribe: Bean Plant
Set - Rarity: Premium - Super-Rare
Card description
Every bean is accounted for. I assure you, they all add up.
Strategies
With
Bananasaurus Rex is a great plant to use with Bean Counter, as the Weenie Beanies added to your hand are counted as card draws, making the Bananasaurus Rex stronger. Admiral Navy Bean is also a good choice, because in conjunction with this plant, you can deal 6 damage to the zombie hero, by first playing the Bean Counter itself and later playing the two Weenie Beanies, as they will all activate Admiral Navy Bean's effect.
However, in order to use this plant effectively, the player should include bean plants in a deck. Luckily, the Smarty class has a large amount of beans the player can use.
Against
This plant cannot be played until at least the 4th turn, unless the player is facing Solar class heroes, who can play sun producing plants. Despite this, the player should have a zombie that is capable of defeating this plant as early as possible, because it can become a very big threat because of its effect. The player can also use tricks like Rolling Stone or Weed Spray if no other beans have been played to make this plant stronger, and if that's the case tricks like Rocket Science or Locust Swarm are recommended.
Gallery
Old
Trivia
See also