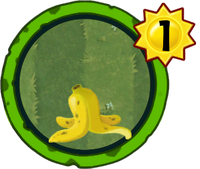 Banana Peel is a galactic rare plant trick card in Plants vs. Zombies Heroes, and a member of the

Mega-Grow class. It costs 1

to play, and its abilities move a selected zombie to a selected lane, and Conjure a banana card. Its closest zombie counterpart is Terrify.
Origins
It is based on a banana peel, an outer covering of the banana fruit.
Its ability and description are references to the common gag of slipping on a banana peel.
Statistics
Class: Mega-Grow
Tribe: Banana Trick
Abilities: Move a Zombie. Conjure a Banana.
Set - Rarity: Galactic - Rare
Card description
A slapstick comedy staple that, somehow, the Zombies never see coming.
Strategies
With
This is an excellent card to have in most decks, usually much better than its zombie counterpart. It costs 1

, and allows you to move a zombie out of the way, and on top of that, it also Conjures a banana. The banana cards you can Conjure range from another Banana Peel to a Banana Split to a Brainana. Most banana cards are rarer than some other cards, which can give you an advantage. Moving a zombie out of the way of your powerful plants can do massive damage to the opposing hero, especially when they have a scheme with the placement of their zombies. If you are Captain Combustible, you can use this card as a cheap way to move the zombie out of the way of your

Anti-Hero plants.
Take note that since it Conjures a card into your hand, Captain Cucumber can make the Conjured card cheaper while Bananasaurus Rex will boost itself when you play this trick.
To know what cards you can Conjure, here is a list of all banana cards in the game:
Against
You can't do much about your zombie being moved, but

Sneaky heroes can pack a Smoke Bomb to counter this, plus give the zombie affected by it +1

as a bonus. If you are playing as a

Hearty hero, and you happen to have a Sumo Wrestler in a Gravestone at the time, you can somewhat counter what they did if they moved that zombie away from a powerful plant, since you can move said plant back to that zombie's lane. Neptuna has both of these classes, so she may be the best counter for this. A hero like Chompzilla may be moving your Amphibious zombies because they are in the aquatic lane and unable to be taken care of by her without Devour. In this case, a

Beastly or Sneaky hero can swarm the aquatic lanes.
If you rely on tricks, beware of the possibility of Brainana being Conjured.
Gallery
Trivia
See also