YOU FOUND MY BACON!!! My sweet oily bacon! I'll give you $1000 for it! Great, now I'm gonna rub the bacon ALL OVER MY FACE!!

Bacon


Statistics
Type
Food
Cost to buy/
How to get
Find in Adventure mode, $50, then $500
Use
Getting a diamond, feeding Crazy Dave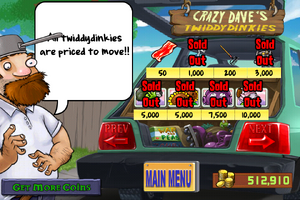 Bacon is an item obtained after Adventure Mode Level 3-4 on the Android and iOS versions of Plants vs. Zombies. It is a replacement for Crazy Dave's Car Key, as the shop is already open to buy mini-games before that level. On the Nintendo DSiWare version, it is a replacement for the Watering Can found on Level 5-4, due to the fact that the Zen Garden is not included. In the iOS and Android versions, Bacon was originally obtainable on Level 5-4, but was moved when the Zen Garden was added in a later update.
It consists of a greasy strip of fried pork, which Crazy Dave will exchange for a diamond. This is similar to the Magic Taco, which is obtained in Level 4-4 on all versions and then also given to Crazy Dave for a diamond. When given the bacon, he will exclaim:
"YOU FOUND MY BACON!!! My sweet oily bacon! I'll give you $1000 for it! Now I'm going to rub the bacon ALL OVER MY FACE!!"
The bacon can also be unlocked in the shop after buying the ninth
seed slot
and it will cost $50.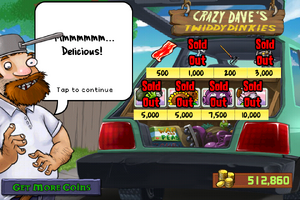 When it is clicked on, a message will appear saying: "It won't help against the
zombies
, but everyone loves bacon!" After the first purchase, the bacon's cost will be raised to $500. Then a new message will appear when the player taps on the bacon. It will say: "Mmmmmmm... Delicious!" When it is bought,
Crazy Dave
's eyes get very big and he will also say "Mmmmmmm... Delicious!" After the bacon is purchased many times, the player will realize that it doesn't do anything and that it was just a clever way to lure them out of
$500
.
Gallery
Trivia
The bacon is one of the few items in the shop that can be bought more than once.

It is also the only item in the shop (other than the house blueprints in the Console versions) that rises in price.