Ask Me About Mustache Mode
Talk

4
699pages on
this wiki

Difficulty: Very Easy
Ask Me About Mustache Mode is an achievement the player can earn if they purchased Plants vs. Zombies through Steam. To earn this achievement, the player must simply type "mustache" or "moustache" while playing the game or in the Main Menu, making the zombies have mustaches. When the player types it correctly, the achievement will be earned. The player can earn this achievement anytime in the game.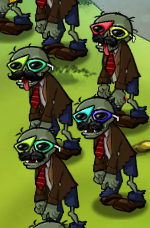 Trivia
The GOTY version of the game simply calls this as "Mustache Mode". In order to unlock it, the player simply must do the same thing.
Ask Me About Mustache Mode is the only achievement related to activating a code.
Typing "mustache" or "moustache" will only affect a normal zombie and his variations, like Screen Door Zombie, Buckethead Zombie, Conehead Zombie, and Flag Zombie. However, the Flag Zombie will not be done if the player has a Zombatar, except in the DS version.
Zombies with mustaches have normal strength due to it being accessories.
When the player kills a normal zombie with a mustache, the mustache will fall along with the zombie's head.

Ask Me About Mustache Mode Shirt

Added by

Hoanganhminh

The new Backup Dancers and Ladder Zombies already have a mustache, so if the player activates mustaches, it won't affect the Backup Dancer and Ladder Zombie.
The player can earn Ask Me About Mustache Mode even without the Tree of Wisdom.
This is the only achivement that requires typing a code.
See Also