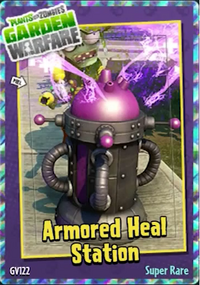 Armored Heal Station is an alternate ability for the Scientist's Zombie Heal Station. What makes it different is the fact it has around 13.3 times more health, double the range and it recharges faster, but will self-destruct after 20 seconds being deployed and it heals roughly 40% slower. It takes 30 seconds to recharge.
Stickerbook description

The Armored Heal Station is so heavily armored, it would take the Plants an eternity to destroy. It has only one slight weakness: it is prone to self-destruction after a short while.
Health
An Armored Heal Station has less than or equal to 2000 health.
Strategies
This is more suited for aggressive Scientists, due to the higher health that this possess. If you are fighting up close, you can steadily help allies who are trying to assist you. Though, using the Cheetah Heal Station (Garden Warfare only) or the Zombie Heal Station may be better, as they heal a lot faster, but with Cheetah, be careful, as it may explode much too quickly. With Zombie Heal Station, be careful of any plants around.
Trivia
There is a mistake in the description in which it will self-destruct in the same amount of time as the Zombie Heal Station does.
See also
Ad blocker interference detected!
Wikia is a free-to-use site that makes money from advertising. We have a modified experience for viewers using ad blockers

Wikia is not accessible if you've made further modifications. Remove the custom ad blocker rule(s) and the page will load as expected.