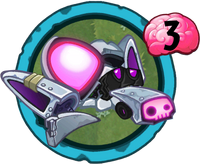 Area 22 is a galactic super-rare zombie environment card in Plants vs. Zombies Heroes, and a member of the

Beastly class. It costs 3

to play, and its ability gives all zombies in it +2

/+2

and the

Frenzy trait. This ability persists until Area 22 is overridden by another environment.
Origins
It is named after Area 51, a highly classified remote detachment of Edwards Air Force Base, within the Nevada Test and Training Range.
Its description references the many conspiracy theories surrounding Area 51, most being about aliens.
In addition, "22" might be a reference about how it is zombie-related, seeing the letter "Z" and the number "2" looks somewhat similar. The 22 also references the stats that the environment gives, which is +2

/+2

.
Statistics
Class: Beastly
Tribe: Science Environment
Ability: Zombies here get +2/+2 and Frenzy.
Set - Rarity: Galactic - Super-Rare
Card description
"Zombies from outer space? What an absurd conspiracy theory! Now move along. Nothing to see here." - Dr. Zomboss
Update history
Update 1.16.10
Strategies
With
This environment can allow any zombie to get a medium stat boost along with the

Frenzy trait. This can be effective with pet decks as you can give Cat Lady, Zookeeper, or another pet zombie more health, more attack power, and the

Frenzy trait to destroy weak plants with Team-Up and to damage the plant hero.
Zombies that have abilities that activate when they do damage can also benefit with this environment greatly. This can include Cheese Cutter, which can destroy weak plants and have a chance to Conjure a cheaper Gourmet card, and Kite Flyer, which can draw more cards for each plant he does damage to.
Because this environment gives the

Frenzy trait, it is not recommended to use it on zombies that already have

Frenzy themselves as it only gives a stat boost, which is weaker than Vitamin Z.
Playing Overstuffed Zombie in this environment can be a good choice as its ability requires it to destroy a plant and it suffers from rather low strength. This environment can also be combined with high stat cards such as Zombot 1000 making it 11

/11

with

Frenzy, making it very hard to destroy.
Since this is a science environment, Interdimensional Zombie will transform into a random zombie that costs 3 brains, so that a zombie that costs 3

will have the

Frenzy trait. However, only Immorticia can do this normally.
Since this gives zombies

Frenzy, Ancient Vimpire can be used to give the frenzied zombie an extra boost on top of the boost Area 22 gives it when the frenzied zombie destroys a plant. If the zombie is Vimpire, then he will get +4

/+4

every time he destroys a plant, on top of the boost Area 22 gives him.
Against
If you see a zombie and 3 brains have been conserved by a Beastly hero, be careful of playing weak plants in front of zombies as this environment can allow a zombie to grow stronger and pierce through your defences easily, thus wasting most of your cards. When this occurs, try to destroy that zombie if you can or play brute force against the zombie hero to make them think twice before using this environment.
You can generally remove this environment playing any cheap plant environments such as Coffee Grounds or Planet of the Grapes.
Gallery
Trivia
Its description is the first to be a quote from a character not seen on the card. The second is Tricorn's description.
During its idle animation, a Neutron Imp will appear in the "cockpit" after a while.

This also happens when the player is viewing its statistics.

When Area 22 is overridden by another environment, the dismantled parts of the spaceship and the toxic waste that spilled out when it was originally destroyed get sucked up by a beam and carried away.