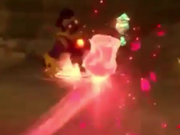 Arcane Enigma is the second ability for Rose in Plants vs. Zombies: Garden Warfare 2. The ability is similar to the Scientist's Energy Warp, turning it immune to most damage and allows it to travel faster. It can also be used to deal area damage pulses, dealing 20 damage, at the cost of 25% of the energy bar. Arcane Enigma has approximately one second cast time.
Stickerbook description
Only Rose could make transforming into a being of pure, invulnerable, damage-dealing energy seem so easy.
Strategies
With
Arcane Enigma is a good way to protect yourself from incoming damage and destroy your offenders at the same time. However, its duration is rather short, and its damage isn't that amazing.
Against
Arcane Enigma makes Rose invincible, so try to run away from her when she activates it. If Rose is about to unleash energy pulses, use Rocket Leap, Rocket Jump, Warp, or jump as Super Brainz to avoid her energy pulses.
Gallery
Ad blocker interference detected!
Wikia is a free-to-use site that makes money from advertising. We have a modified experience for viewers using ad blockers

Wikia is not accessible if you've made further modifications. Remove the custom ad blocker rule(s) and the page will load as expected.