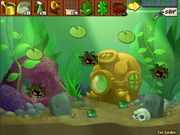 The Aquarium Garden is the third Zen Garden. This garden can house only three plants: Lily Pad, Tangle Kelp, and Sea-shroom; all the aquatic plants except for Cattail (unless one hacks). It can be bought for $30,000 at Crazy Dave's Twiddydinkies. Like the Mushroom Garden, it can hold up to eight plants. Until the aquatic plants are moved there, they are placed in Aqua Pots. They cannot be fully grown or made happy until they are moved there. In the Aquarium Garden, plants do not need to be watered.
Gallery
Trivia
The Aquarium may be a reference to the first level of Insaniquarium, another game made by PopCap, because both include a diver helmet on the right and a cave structure on the left.
The Aquarium Garden is also used as the background for Zombiquarium.

This makes it the only Zen Garden area to be used in a regular Minigame.
Ad blocker interference detected!
Wikia is a free-to-use site that makes money from advertising. We have a modified experience for viewers using ad blockers

Wikia is not accessible if you've made further modifications. Remove the custom ad blocker rule(s) and the page will load as expected.