All by Oneself is a conjectural name for this article.
If you know the official name or have a better name or translation for it, please contact a wiki
administrator
to change it.
This article is under construction and requires more content. You can help our wiki by
expanding it
.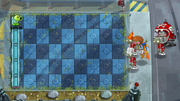 All by Oneself (单枪匹马; pinyin: dānqiāngpǐmǎ) is a Brain Buster in Far Future exclusive to the Chinese version of Plants vs. Zombies 2. The player has to defeat all the zombies with a single plant, and moving it using a Far Future minecart rail. There are many gimmicks to this Brain Buster to even the odds of victory out for the player. The plant will later be upgraded into a stronger plant. Projectiles deal ten times more damage than in normal levels and the plants shoot slightly faster. This Brain Buster is very alike to the mini-game Heavy Weapon and Oak Archery, as all of them use only one plant to defeat a zombie attack.
Levels
Trivia
Projectiles deal ten times as much damage as they normally do.
All by Oneself is similar to Heavy Weapon and Oak Archery, as both only let the player use one plant to kill zombies.

However, in the case of Heavy Weapon, it is a lawn mower instead of a minecart and rail the player manually moves around the back lane.

It is the only level pack outside of Wild West and Kongfu World that uses a minecart and rail.
Level upgrade and costumes doesn't work in this Brain Buster and many other Chinese exclusive ones.
Some zombies, like the Mecha-Football Zombie and Gargantuar Prime have much more health than they normally would.
All by Oneself may be a parody of the song All by Myself.
Disco Jetpack Zombies can spawn by themselves, albeit with more health.
See also
†: Strategy page
*: Unconfirmed name