All-Star Zombie (Plants vs. Zombies Heroes)
Comments

5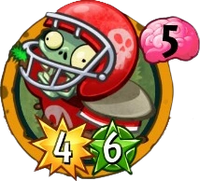 For other uses see Football Zombie (disambiguation).
All-Star Zombie (PvZH)

Statistics
Strength
Health
Cost
4
5
5
Set
Premium
Rarity
Super-Rare
Class
Tribe
Sports Zombie
Traits
Armored 1
Frenzy
Gives 110% on the field. Has no idea what a football is.
All-Star Zombie is a premium super-rare zombie card in Plants vs. Zombies Heroes, and a member of the

Hearty class. It costs 5

to play, and has 4
/5

. It has the

Armored 1 and

Frenzy traits.
Statistics
Class: Hearty
Tribe: Sports Zombie
Traits: Armored 1, Frenzy
Set - Rarity: Premium - Super-Rare
Card description
Gives 110% on the field. Has no idea what a football is.
Update History
Update 1.2.11
Name change: Football Zombie → All-Star Zombie
Strategies
With
The All-Star Zombie can be really hard to take out, due to it having 

Armored 1 which allows it to withstand more attacks. It also has

Frenzy, which allows it to plow through weak plants and do damage to the hero. Since it is a Sports Zombie, Team Mascot can increase its stats and Zombie Coach can make it so it can't be hurt.
Against
To counter it, the player can use plants which can survive an attack from this zombie, like Wall-Nuts or Water Chestnuts.
Gallery
Old
Trivia
Its card description is a reference to the original Football Zombie's Suburban Almanac entry in Plants vs. Zombies.
With the 1.2.11 update, Football Zombie was renamed to All-Star Zombie, probably for consistency with the Plants vs. Zombies 2 and Plants vs. Zombies: Garden Warfare versions.
Even though its description says it does not know what a football is, it attacks plants by throwing a football at them.
In the title screen, All-Star Zombie's helmet has the badge symbol that represents zombie heroes, though it is a different skull in-game.

Also, All-Star Zombie's shirt seems to be missing the skull it has on the title screen.