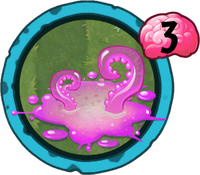 Alien Ooze is a galactic uncommon zombie trick card in Plants vs. Zombies Heroes and a member of the

Beastly class. It costs 3

to play, and its ability gives a selected plant -2

/-2

, or -6

/-6

if that plant is on a heights lane or in an environment. Its closest plant counterpart is Water Balloons.
Origins
It is based off an extraterrestrial substance that is hazardous to human beings.
Its description is a reference to Cruisin' for a Bruisin', a song from Teen Beach Movie.
Statistics
Class: Beastly
Tribe: Monster Trick
Ability: A Plant gets -2/-2. If it's on heights or an Environment, it gets -6/-6 instead.
Set - Rarity: Galactic - Uncommon
Card description
Oozin' for a bruisin!
Update history
Update 1.16.10
Strategies
With
This is a hard card to use because its full ability is only limited to plants on heights or in an environment. However, you can play a cheap environment such as Graveyard or Total Eclipse on a dangerous plant's lane then use this card so that the plant will get -6

/-6

, which will either destroy it or make it easier to destroy.
You can also use it as a counter to Lily of the Valley by removing boost of plants that were boosted by Lily of the Valley. You can also use this to destroy Skyshooter for a cheap price. Other uses are if the Plant Hero relies on one strong plant in a strong plant environment like Coffee Grounds or Venus Flytraplanet, this card can destroy that powerful plant completely if you cannot replace that powerful environment with one of yours.
This card works very well with certain missions like A Shadow Falls as you can always allow this card to deal a major debuff.
Against
Be careful if you predict the zombie hero that can have this card in their hand as -6

/-6

can destroy most of your plants for just 3

. Try to play plants that are not in an environment or on Heights lane to reduce the huge stat reduction from Alien Ooze. In addition, be careful if you rely on a strong plant with a strong Plant environment as this trick can work on any plant regardless if it is in an environment.
The only non-boosted plants that can survive its major debuff (-6/-6) ability are: Water Chestnut, Hibernating Beary, Pecanolith, Gravitree, Soul Patch, The Great Zucchini, Wing-Nut, Tough Beets if there are at least 6 plants/zombies on the board, Super-Phat Beets if there are at least 4 plants/zombies on the board, and many other Mega-Grow cards that can buff itself over 6 health. However, the major debuff ability will likely remove all strength of the plant, turning it into a useless wall with a slightly supporting ability and will likely make your opponent ignore it.
You can also play multiple threats to force the opponent to consider which is more threatening or if it survives the debuffing, boost it back again with cards like Fertilize or bounce it back into your hand with Rescue Radish or prevent it from being played easily with Dark Matter Dragonfruit or at all with Brainana. However, take note that you will most likely not be able to respond to this trick as it can be played after the Plants Play phase.
Gallery
Trivia
When it is played, the player can see a small canister being thrown. This canister contains the ooze.
It and Monster Mash are the only monster tricks in the game.
During development, it was originally only going to work on plants in environments. After that, it was changed to give -4/-4 compared to -6/-6 now.