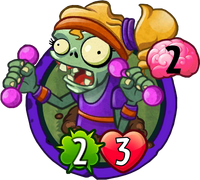 Aerobics Instructor is a premium super-rare zombie card in Plants vs. Zombies Heroes, and a member of the

Crazy class. She costs 2

to play, and has 2

/3

. She does not have any traits, and her ability gives all dancing zombies on the field, including her, +2

at the start of every turn, starting from the next turn after she is played. This ability persists until all Aerobics Instructors are removed from the field.
In the boss battle of the mission Disco Inferno!, Electric Boogaloo starts with an Aerobics Instructor on the third lane.
Statistics
Class: Crazy
Tribe: Dancing Zombie
Traits: None
Ability: Start of Turn: All Dancing Zombies get +2.
Set - Rarity: Premium - Super-Rare
Card description
Aerobics really bring the dead to life.
Update history
Update 1.16.10
▲

Strength change: 1 → 2
Rarity change: Rare → Super-Rare
Strategies
With
This zombie alone can become powerful if protected and kept alive for several turns. However, this zombie really shines in dancing decks. Line Dancing Zombie used alongside this zombie can become a very powerful zombie because of her high base strength. However, only Impfinity can do this normally. Disco-Tron 3000 can also be paired with Aerobics Instructor because it can make two dancing zombies, which are Backup Dancer and Disco Zombie, and is also a dancing zombie by itself.
Arguably, Z-Mech has the best use of Aerobics Instructor, as he can use health boosting tricks to keep her alive for longer. This can also be useful for many dancing zombies, as they usually have poor health. To boost them all at once, he can use Camel Crossing. He can also use Bonus Track Buckethead to his aid as well, as he is also in the dancing tribe.
Against
This card can become a threat if the enemy player plays a lot of dancing zombies, especially if another Aerobics Instructor is played. It is highly recommended to destroy her as early as possible. Cards that can instantly destroy her such as Berry Blast, Meteor Strike, and Whack-a-Zombie can deal with her easily.
Gallery
Plants vs. Zombies Wiki
has a
gallery
for Aerobics Instructor.