Achievements (Plants vs. Zombies)
Comments

0
960pages on
this wiki
For other uses, see achievements.
When the player plays
Plants vs. Zombies
, they can earn
achievements
if they are playing any version of the game besides the original PC version and the
online version
because they do not have any achievements. Some achievements cannot be achieved on certain levels of the game. In the
Plants vs. Zombies: Game of the Year Version
,
iPod Touch, iPhone, iPad
,
Android
, BlackBerry, PlayBook,
DS
and
DSi
versions of
Plants vs. Zombies
,
Chinese Zombies
 are found at the bottom of the achievements page, although there are very slight variations between each of the different versions. When the player gets any achievement, they will hear a significative sound.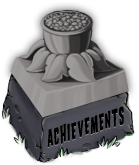 PC/Steam Achievements
On May 8, 2009, the version of Plants vs. Zombies on Steam was given twelve Steam Achievements. On August 8, 2010, with the GOTY's release, the Steam version was given an update, including nine extra achievements, boosting the total on Steam to twenty-one (the non-Steam Game of the Year version has twenty of these achievements, but with a few small changes to them).
Added in the GOTY
These Achievements were added to the Game of the Year (GOTY) Edition.
iOS Achievements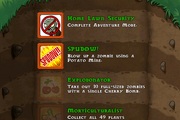 There are a total of 48 achievements for the iPhone/iPod Touch/iPad.
Removed Achievements
These achievements were originally intended for this version, but were removed. They are still hidden in the coding for the game.
Xbox Live Arcade Achievements/Playstation Network/Vita Achievements
There are a total of 12 achievements on the Xbox Live Arcade/PlayStation Network versions. On the leaderboards screen, one will see that Crazy Dave puts lawn ornaments on the lawn of your leaderboard house upon obtaining each achievement of the game.
PS Vita Only
The PS Vita version of the game has most of the Achievements from the PS3 Version, plus a few more.
Nintendo DS and DSiWare Achievements
The Nintendo DS and DSi versions have their own set of achievements. There are 14 total. Note that many of the DS achievements may seem similar to other achievements of different names. The only difference is the names of these achievements.
​DS Only
Android/Nook Achievements
There are a total of 48 achievements for the Android version. The Nook version only includes 10 achievements.
​Android/Kindle Fire Only
Gallery
While digging down the hole before going to China, you will encounter these things:
Trivia
Players can see zombies on the other side of the world (China) at the Achievements page. To see Chinese Zombies:

For the PC version, scroll the mouse down or press arrow down key.
For the other versions, such as iPad and Android, slide down the screen.
This is there because of the phrase "digging to China".

There is only one hidden achievement: Peking Express.
The DSiWare version of Plants vs. Zombies has the least achievements, with 9.
See also